Heart of a Child Giving Challenge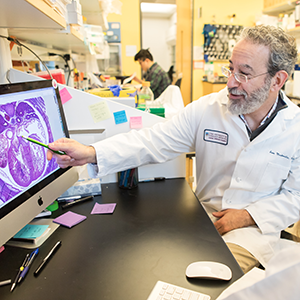 This past spring, the Heart of a Child Giving Challenge at the University of Chicago Medicine raised more than $23,000 to advance the research endeavors of Ivan Moskowitz, MD, PhD, and his team, who are investigating the genetic causes of congenital heart disease (CHD).
Each year, CHD affects 1 in 100 babies born, yet we still do not understand the underlying causes. Dr. Moskowitz is working to improve diagnosis and treatment of children born with this condition.
Thanks to the continued advocacy of the Heart of a Child Foundation, we aim to raise further funds for Dr. Moskowitz's work, so that future generations of families will not have to face this challenging diagnosis.
CHD Awareness Week is in February, and UChicago Medicine and the Heart of a Child Foundation have again launched a Giving Challenge with the goal to raise another $30,000 from at least 100 donors to support CHD research.
Read more about Dr. Moskowitz's research at https://www.uchicagomedicine.org/forefront/heart-and-vascular-articles/proper-heart-development-all-about-timing
Please help families facing CHD by making a gift to support this promising research.
Thank you for your support!
Have questions about this challenge or giving to UChicago Medicine? Ask us at givetomedicine@bsd.uchicago.edu or 773-834-9166.
View More
PARTICIPATION GOAL: 5 of 100 donors
Hazel and Stanley Lunskis